Details of the Westminster Government's successor to the furlough leave scheme have been announced.  The Government will support employers whose staffing needs have fallen as a result of the pandemic as follows:

Employers may agree with employees who were on payroll on 23 September that they will work reduced hours, (at least 33% of usual hours) and be paid as usual for that time
For each hour not worked employers and the Government will each pay a further 1/3 of pay, but the employee must not be under notice of redundancy
The Government contribution (not the employer's) will be capped at £697.92 per month
The employer will pay up front and be reimbursed by the Government in arrears
NIC and pension contributions remain payable by the employer
The scheme will run from 1 November for 6 months and is open to all SME employers and large employers who can show they have been adversely affected by the pandemic.
Below is the graphic from the Government to demonstrate the scheme.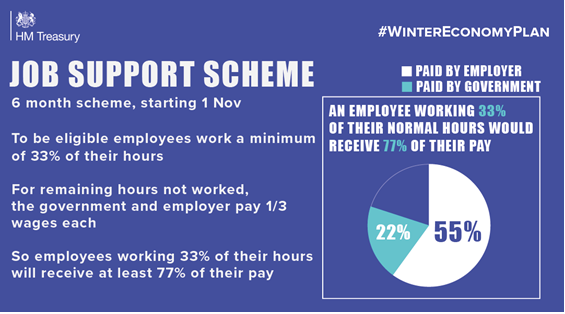 We will publish more detail as it becomes available.