If you're buying property with your partner, a simple agreement upfront could help you avoid a classic mistake and also keep things clear and amicable
Let's say you're about to buy a home with someone – your partner or just a friend. And let's also say that, thanks to a gift or inheritance, you're going to pay most of the deposit – a common enough situation. 
Then let's skip forward five years, when you decide to go your separate ways and sell up. You assume you will either get all your deposit back or a larger share of the sale price to reflect what you put in. It goes without saying, surely? 
Well, no, not necessarily. One of the most common misunderstandings among partners or friends who buy a home together concerns the case of the unequal deposit. Without a legal agreement specifying what happens with the deposit if you split or sell, you may not get all of it back. 
"A simple legal agreement can prevent unpleasantness and provide reassurance to relatives who gifted the cash for a deposit."
For cohabitating couples, there could be further potential shocks around your respective rights and obligations since you are subject to cohabitation legislation (unlike friends who buy together).
A simple solution 
Fortunately, such situations can be easily prevented, with a cohabitation agreement. A solicitor can draw up a simple legal agreement specifying that the person who put in the larger deposit (or pays more of the mortgage) gets back a larger share if you sell. As well as preventing unpleasantness, this can be reassuring to relatives who gifted the cash for the deposit. 
When your budget is stretched by buying your first home and you're already dealing with conveyancing and mortgage paperwork, it's tempting to skip a cohabitation agreement. But dealing with the deposit issue is just one of many reasons why it's important.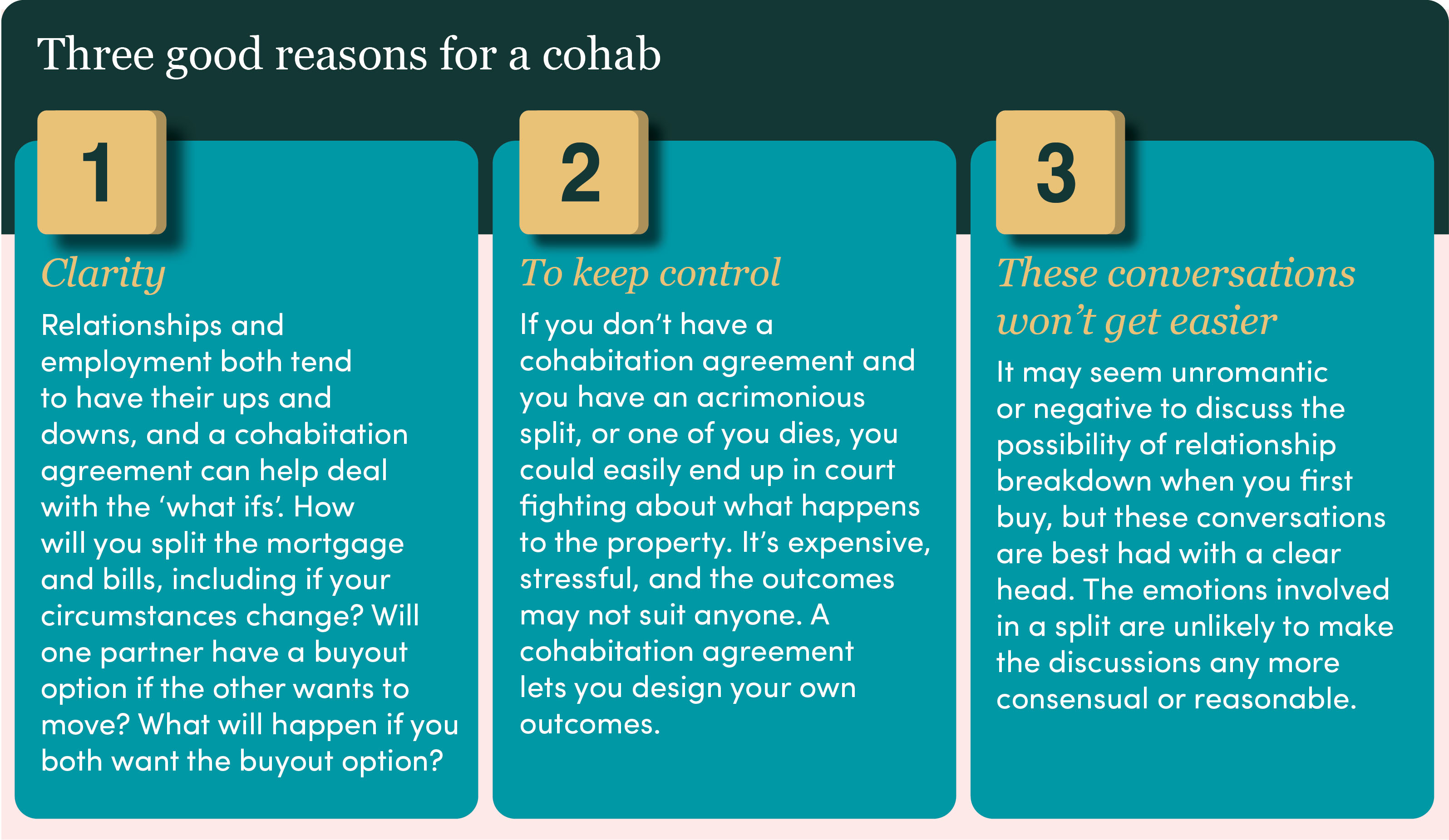 A solicitor can quickly and easily discuss your particular circumstances, and create an agreement that looks after everyone's interests. It's much better than leaving it to chance or looking for something online, and could well save you much bigger legal bills down the line.
To read the next article in this edition click here. 
Or you can read the previous article here.