Most landowners will by now be aware of the changes to the system of land registration imposed by the Land Registration etc. (Scotland) Act 2012. 
Where title to a property is not already registered in the Land Register, registration will require to be undertaken by 2024.  
It is not yet compulsory to register your existing Sasine title in the Land Register (except in certain circumstances where triggers have been put in place to compel landowners to register their properties) but there are certain benefits to voluntary registration which are outlined below.  As a result you may wish to consider the voluntary registration of your property sooner rather than later.

Why voluntarily register your land? 
While the whole registration process is slightly daunting and will involve expense, there are some very real benefits for the owners of both rural and urban properties which can be summarised as follows:
The end result will be an accurate online map based on the modern Ordnance Survey map.  
All the information relating to the property will be on one Title Sheet or a series of sheets  depending on the extent of the property;
The Registers of Scotland map known as the "Cadastral Map" will be updated every time the property is sold;
Where there are boundary issues between neighbouring titles being first on the Register will put that landowner in a stronger position;
The property will be covered by a state backed guarantee;
Subsequent intra-family transfers and sales of properties will be considerably simpler resulting in a saving to the landowner;
The number of title enquiries will decrease resulting in a further saving; 
Detailed examination of the title may disclose previously unknown assets. 
How we can help
Our Rural Services team has worked with numerous individuals, Estates, Partnerships, Trusts and Charities to complete the voluntary registration of their land, and our team can assist in making the voluntary registration of your property as straightforward as possible by providing advice and guidance at all stages.  
The process
Should you decide that you would like us to undertake the voluntary registration of your property, the first step is for us to carry out an initial examination of your title deeds to check whether your existing deed plan meets the Registers of Scotland plan requirements. If it does not then we will instruct the preparation of a new deed plan or plans which will also take into account any subsequent disposals from your original title.  
The initial plan is essentially a working draft and there still needs to be a detailed examination of the title deeds in order to check boundaries and the rights and burdens (eg registered leases, servitudes, rights of way, third party rights etc) which affect the land. 
Once the information about title conditions has been collated, and we have discussed with you which burdens and rights are still live (ie relevant), the final version of the plan will be prepared and submitted to Registers of Scotland for a Plans Report to check that there are no overlaps or discrepancies with the Cadastral Map. 
We will then address any title issues which arise and thereafter prepare your application for registration. 
Once submitted we will continue to liaise with Registers of Scotland regarding the progress of your application and check the new title sheet for any errors or inaccuracies once it is issued.
If you would like to discuss the possible voluntary registration of your property please contact us. 

Meet the team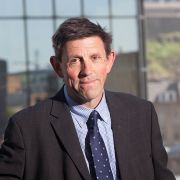 Michael Yellowlees
Title: Partner, Head of Rural Services
Department: Rural Services
Location: Edinburgh
Show Team