Combining specialist legal expertise with a passionate interest in history, our Rural Services team have extensive experience of helping clients to buy or sell feudal dignities. 
As the leading firm dealing in this field of law we can take you through all the legal processes and historical research required to buy a barony, lordship or earldom in Scotland, and have represented clients in most of the leading legal cases in this area.
The historical background
The personal dignities of baron, lord and earl are Scottish titles which have survived feudal abolition. Until feudal abolition in November 2004, the titles were estates of land held directly from the Crown. Since abolition, they have been completely dissociated from the land to which they were originally attached.
For centuries baronies conferred important commercial benefits and legal privileges, but they are now personal titles with no powers or responsibilities. Holders are able to sell, gift or bequeath them, as 'incorporeal' property separate from the ownership of land, and there is a small but active market for them. 
Modern legal procedures
Although dignities have now been separated from the land, a purchaser will generally still need the services of a Scottish solicitor to assist with the examination of the title deeds and the conveyancing formalities.
We can guide you through all the processes involved, including:

due diligence, including examining title deeds for the original interest in land
conveyancing 
registration with the Scottish Barony Register.
Petitions for Arms
The grant of Arms is a matter within the discretion of the Lord Lyon, who is the Crown's representative in all heraldic matters in Scotland. We regularly advise clients on, and submit petitions for Arms to the Lyon Court.
If you are interested in more information on the historical background to Scottish Barony Titles or would like to find out about buying one, please download the relevant document below:

The historical background to Scottish Barony Titles
Buying a Scottish Barony Title
The historical shorthand of heraldry
"A committed and efficient approach to client service."

Chambers UK: A Client's guide to the UK legal profession
Meet the team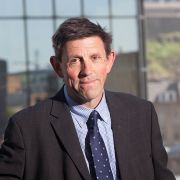 Michael Yellowlees
Title: Partner, Head of Rural Services
Department: Rural Services
Location: Edinburgh
Show Team