Giffnock North AC are the new recipients of the Lindsays Trophy after a superb season of cross country participation in Scotland.
The Glasgow club, winners in 2016 and 2017, won the accolade back from holders Garscube Harriers after fielding no fewer than 283 finishers in the three Lindsays National Championship XC events over the winter.
Remarkably, no fewer than 13 clubs this year tallied more than 100 finishers at the Lindsays National XC Relays at Cumbernauld, the Short Course at Lanark and the National XC at Falkirk. The Lindsays Trophy is awarded each year to the club with the biggest aggregate number at these three events.
And, in a really positive development for the sport, we reached an exact total of 100 clubs across the length and breadth of Scotland fielding at least one finisher in these three events - with the sponsorship support from Lindsays instrumental in growing the 'reach' of these National Championship events.
It was a special night for Giffnock North when Scottish Marathon Record holder, and double Senior XC title winner, Callum Hawkins joined scottishathletics Chairman Ian Beattie, who is Chief Operating Officer of Lindsays, at training at Eastwood High School to make the presentation.
'I'm delighted to award Giffnock North AC the Lindsays Trophy after another fantastic season,' said Ian.
'Athletics in Scotland is going from strength to strength, and we're also seeing the huge impact the sport is having in local communities across Scotland because of the strength and depth of the clubs, helped by their commitment to increasing participation in cross country.
'Lindsays values the opportunity to support athletics in Scotland, recognising the sport's contribution to the physical and mental health of the nation.
'With mental health becoming an increasingly important issue for businesses and employers, the links between active, healthy communities and a thriving economy and society are becoming ever more relevant.'
Giffnock triumphed by a margin of 35 runners with their 283 tally from Garscube's 248. Both these clubs had more than 100 finishers at the Lindsays National XC at Falkirk in February. Edinburgh AC took third place with 193 with Cambuslang Harriers (167) and Central AC (163) in fourth and fifth place respectively.
Completing the top ten in the Lindsays Trophy for 2018-19 are Corstorphine AAC, Kilbarchan AAC, Fife AC, Bellahouston Harriers and Aberdeen.
'We're absolutely delighted to see our name on the Lindsays Trophy again,' said Giffnock coach, Croy Thomson.
'Male and female, young and old, fast and not so fast, we take great pride in our efforts over the country, and we've always believed in cross country as fundamental to building camaraderie, confidence and success on all surfaces.
'So winning the Lindsays Trophy is a valued tribute to our endurance runners, as well as recognition for our hard-working coaches, officials and volunteers. The Lindsays Trophy complements the Pat Spence Trophy retained this year for best overall female team performance at Falkirk.
'Over the years, Giffnock North has strongly targeted the big three national cross country events and we encourage all our endurance athletes to run them because cross country is not just brilliant conditioning, it's also a worthwhile challenge in itself and a different, less pressurised kind of fun.
'Giffnock North AC very much appreciates the support from Lindsays for the Scottish cross country season. They have helped raise the profile of the events and helped broaden the appeal via dynamism, drama and fun.
'The Lindsays Trophy is an incentive towards competition, of course, but it's more than that: it's a focal point, a talking point that makes more people aware of cross country and stimulates interest and participation in one of our finest sporting traditions.'
*Giffnock North also won the Pat Spence Trophy for overall performance in the female divisions (of all age groups) at the Lindsays National XC at Falkirk in February.
More information about our sponsorship and the associated package offering benefits to local clubs and members of scottishathletics can be found here.
LINDSAYS TROPHY TOP 10:
Giffnock North AC 283
Garscube Harriers 248
Edinburgh AC 193
Cambuslang Harriers 167
Central AC 163
Corstorphine AAC 140
Kilbarchan AAC 135
Fife AC 121
Bellahouston Harriers 120
Aberdeen AAC 117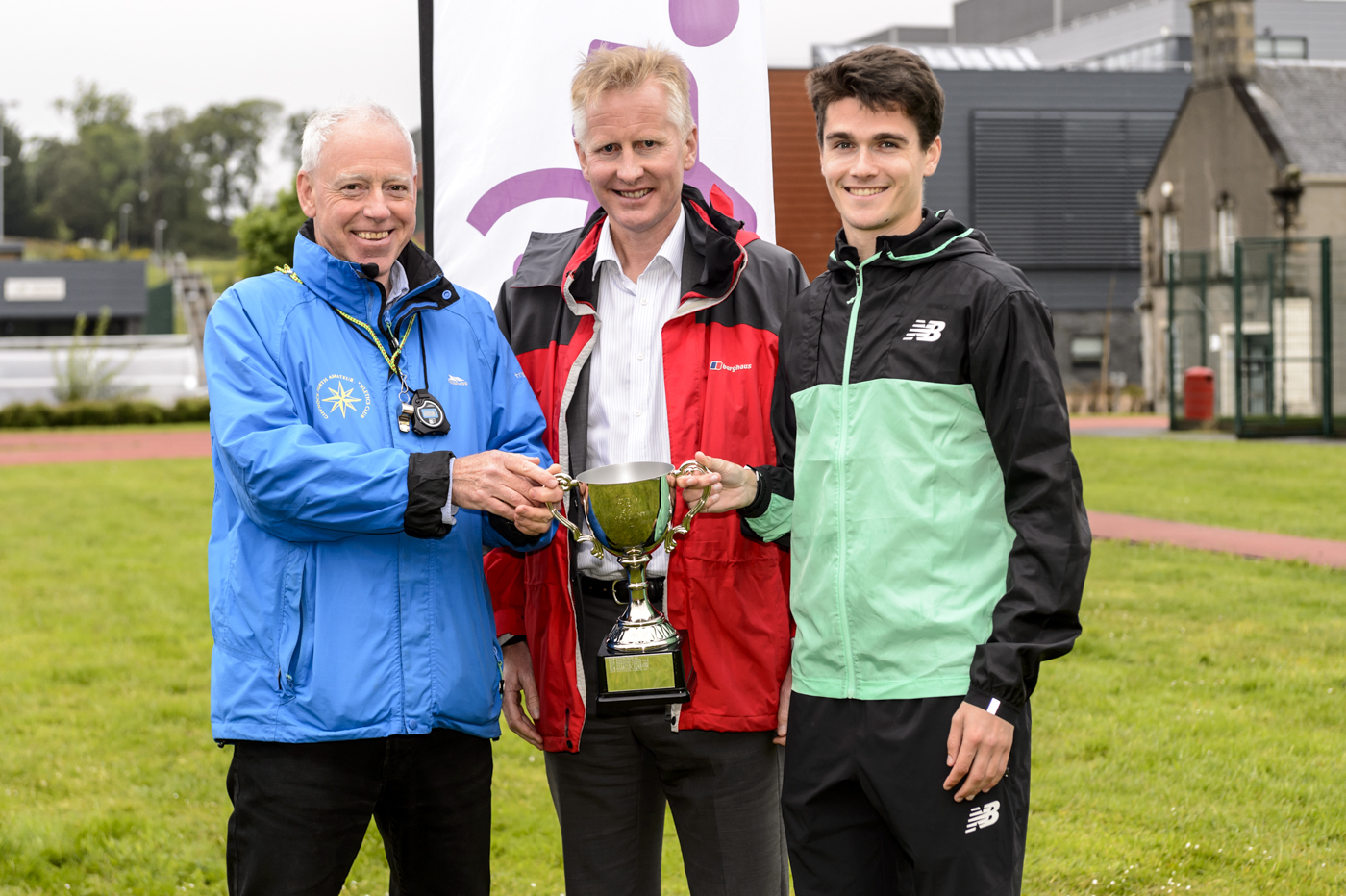 Photo L to R: Croy Thomson (Giffnock North AC), Ian Beattie (Lindsays) and Callum Hawkins.
Photos by Bobby Gavin/scottishathletics